Interview with Dr Lafina Diamandis – Co-Founder of Eurekadoc
Dr Lafina Diamandis studied medicine at Kings College London (KCL) and gained a masters in Brain and Mind Science from University College London (UCL). She has created with her co-founder Aroon Baskaradas, Eurekadoc, a company which offers medics courses in business education. Eurekadoc specialises in diverse medical education and helps teach medics about alternative career paths as well as providing the tools necessary to diversify their medical careers.
Interview:
How did you meet your co-founder?
DR LAFINA DIAMANDIS: Aroon and I met at a digital health entrepreneurs event at the RSM a couple of years ago. We had a lot of interests and core values in common and felt there was a real gap in the market for a more diverse medical education including careers support. The two of us have had quite diverse and unconventional career paths both inside and outside of medicine (during our career breaks). Aroon has had experience working in management consulting and he completed an MBA at Imperial Business School. Similarly I have experience in real estate, research in the field of cognitive neuroscience and I've experimented with e-commerce too. I think the interesting thing is that after having had some fantastic experiences outside of our clinical careers we both still wanted to come back to healthcare. Being a doctor is an incredible experience and leaves you with immense satisfaction. Unfortunately it's the system and a perception of lack of control over career options that can start to wear people down.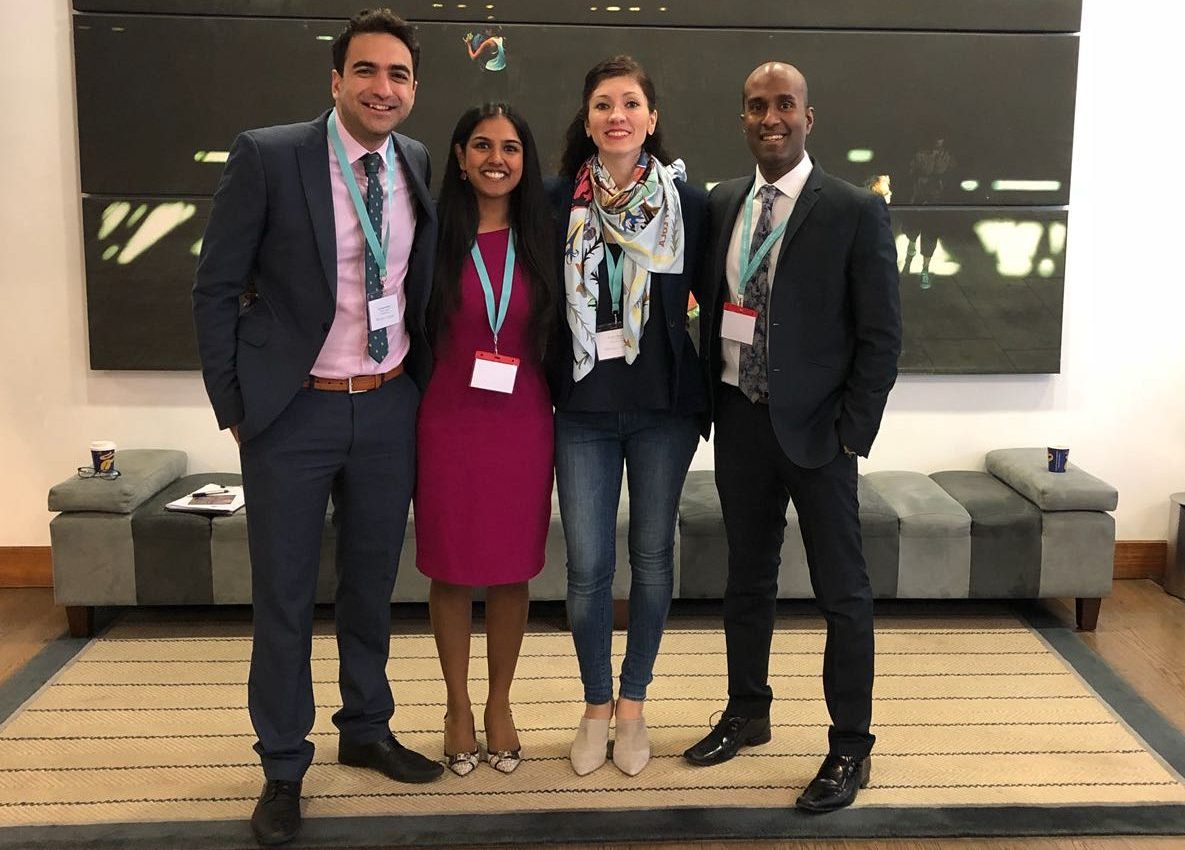 So what is this project?
DR LAFINA DIAMANDIS: Initially the concept for Eurekadoc was Eurekadoc publishing, a company specialising in niche medical careers like Media Medicine or Aviation Medicine. However, when I met Aroon, we were really excited about showcasing the vast number of diverse and portfolio career options faster than we could publish, so we decided to hold a careers event/conference with lots of different speakers. We had over 200 people attend and after running that event we realised that what people really needed were the tools to help them make their next move, develop the skills they needed and learn how to find out about great career opportunities. That's how Eurekadoc as an education and training company was born.
Eurekadoc is now 2 years old, we held our first careers conference Medicine: Stay or Go? in December 2015. The initial conference helped us understand what people's career interests were and what courses they might benefit from. Many of them were either looking to transition out of medicine or just diversify their skills and create better careers for themselves. Since then we have run courses in the areas of Digital Health, Mini-MBA in Healthcare, Public speaking, Management Consulting, 21st Century Careers Design and even Property Investment!
What we really stand for is diverse medical careers as opposed to completely leaving the medical profession. It's not as black and white as that with many doctors taking F3 years or career breaks, but most do return. The issue is a real lack of 21st century career support for doctors and medical students highlighting what kind of opportunities beyond the conventional are out there and how to design a career that is right for you. It has taken me several career breaks to find out what I really want to do (and realise that it is ok to do what interests me). For me, it's definitely a portfolio career – a blend of clinical and non-clinical work that gives me flexibility and autonomy. This makes me a better doctor and a generally happier and more fulfilled person.
What does the future hold for Eurekadoc?
DR LAFINA DIAMANDIS: Eurekadoc was designed from the start to work on a shoestring budget and to be financially sustainable. We are thinking of applying for some funding to help us expand and if we got some funding it would help us to grow our brand and expand our reach throughout the UK as well as globally. We want to be able to create better careers resources and training for medical students and doctors as well as improving on areas which we aren't experts in such as marketing, sales, and developing a better online presence.
What would you have done differently?
DR LAFINA DIAMANDIS: Probably more market research, because I think lots of entrepreneurs fall into the trap of falling in love with their own ideas and their own products without actually testing the market for viability. Luckily we haven't fallen too foul in that regard. There are definitely a couple of things we've done which probably haven't been of great interest to many people; we got carried away with our own passions and the market wasn't quite there. I think it's always very important to do as much market research as possible, so you can and test and measure constantly as you're going. Failing fast is key.
Both you and Aroon have unconventional medical training – is this the best way to get into business?
DR LAFINA DIAMANDIS: I don't think it's necessarily the best way to go but if you follow your interests and your passion and enjoy what you are doing right now, it shouldn't matter what route you take. There is no 'perfect' way to do things, it's about enjoying the process and the journey. Medicine and medical training is currently very prescriptive and a lot of people feel there is only one way of doing things which of course there isn't. So if you can follow your interests, be true to yourself and don't worry too much about what other people think, I think you'll do very well. Our unconventional training helped us develop and use our skills in different fields. This was immensely satisfying and we both felt a lot happier when we came back to our clinical roles.
So both of you are still practicing today?
DR LAFINA DIAMANDIS: Yes, both of us are full time medics. Aroon's a full time orthopaedic trainee and I'm a full time GP trainee.
What's it like balancing being a full time doctor with doing this?
DR LAFINA DIAMANDIS: You have to learn to be really ruthless with your time. In the beginning I would spend all my time at work, then when I got home, start working on Eurekadoc and my property business. I've had to learn to be more efficient with how I spend my time – it isn't always possible, and it can be quite a challenge, but I guess it's something that evolves. I've learnt a lot from Aroon, he manages to juggle being a full time orthopaedic trainee, academic commitments, as well as Eurekadoc around family life with 2 young children. He says he does this by organising his tasks in 45 minute slots of productivity so I try to do this too!
Eurekadoc specialises in diverse medical education and career transformation for doctors and medical students at any stage of their careers. Check out their upcoming courses and get exclusive discounts when you sign up to their newsletter here: www.eurekadoc.com.